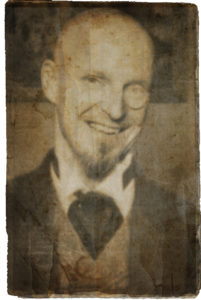 Paul Sating is a writer and the creator of three audio dramas: Subject: Found, Atheist Apocalypse, and Diary of a Madman.
He loves writing various short stories and manuscripts when he's not producing his shows. His audio dramas have won numerous accolades, nominations, and even an award or two since he launched his first one in 2015. A lover of horror, his young mind was warped by the 1980's slasher films and an overdose of Clive Barker's work. He's been in love with the genre ever since and hopes that one day the horror film industry will finally catch up with the wonderful tales horror writers are creating.
When he's not writing he's reading or spending time adventuring through the foreboding back-country of the Pacific Northwest in pursuit of his favorite legends and lore. Paul lives in Olympia, Washington and is passionate about the writing craft, getting to the ocean, doing anything in the mountains and his spending time with his lovely wife and children.
He's honored and humbled to be a small part of Victoria's life.
Website | Facebook | Twitter | Tumbler | Found Stories | Patreon
---
STORIES ON THE LIFT: