GEEK GIRL AUTHORITY: Media for a Halloween Mood
The Lift is a multi-authored production with a twilight zone feel. This podcast is unique in that while it is authored by multiple people, each story fits wonderfully into the overarching narrative. The Lift tells the story of Victoria, the phantasm of a nine year old girl, who lures people into an abandoned building containing a lift. As the occupants ride the lift, Victoria urges her companion to make a choice.
Why is she luring people into the lift? Is she evil? How did she come to inhabit the lift? Why a lift?
The Lift explores Victoria's path as the guardian of the lift, and the insidious people she meets as she performs her duty. But why is she trapped, tied to the lift? Listen to find out.
The Lift is a multi-authored show, produced by Daniel Foytik of 9th Story StudioProductions. You can listen to episodes of The Lift on iTunes, VictoriasLift.com, and Stitcher.
by Carolyn Ducker
Imgur: The MEGA List of Audio Drama Podcasts
No, this is nothing like that hellish M. Night Shyamalan film, Devil. Thank god.
Victoria's Lift is a Twilight Zone-esque podcast centered around an aging building on the edges of Pittsburgh. Each episode functions as a self-contained story, but all share a setting, and a shared theme of transformation.
It reminds me of the Hulu show The Booth at the End, in a good way.
by averyislands
Frighten Up Your Day With These 7 Horror Podcasts – #6: The Lift
This podcast may not be as well known as some others on the list, but the build of it all and regular contribution from writers make it always fresh, always exciting, and always scary. Victoria guides characters up and down levels in this building…this strange, mysterious building…where every floor tells a tale of it's own that will leave you gripping the arms of your chair. The setup is amazing and they always seem to deliver a good fright. Definitely a podcast to add to your feed!
M.J. ORZ
Fiction Podcast of the Week: The Lift
There's many factors at work in The Lift and all seem to click together very well. The soundscape and general production values play a big role here. In the opening few seconds of my first listen my expectations grew rapidly as I heard the highly produced intro. The creepy atmospheric sound is backed up by some excellent musical compositions.
The voices of the narrators don't disappoint either, and some clever audio effects on the voice of Victoria gives her that ethereal feel. The tales themselves are solid and engaging, delivering a lot in a short space of time. If you like creepy short stories and highly produced audio you'll love The Lift.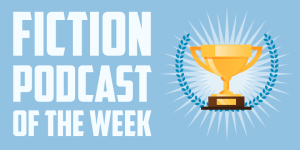 Matthew McLean