Podcast: Play in new window | Download (Duration: 35:47 — 33.4MB)
Subscribe: Apple Podcasts | Android | Google Play | Stitcher | TuneIn

Listen and Subscribe: iTunes | TuneIn | Stitcher
STORY:
"The Last Costume Change" – Gwendolyn Kiste
An orphan and her cousin, who live with her overprotective aunt, sneak out to celebrate Halloween but find themselves in a bind until Victoria takes them on a ride to "Costume Heaven" where the girls revisit their tragic past.
ABOUT THE WRITER: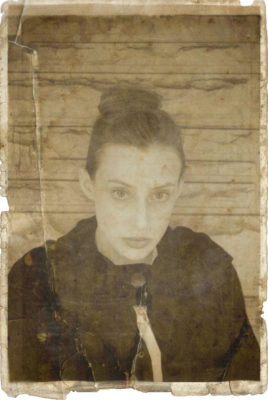 Gwendolyn Kiste is a speculative fiction writer based in Pennsylvania.
Her work has appeared or is forthcoming in publications including LampLight, Nightmare Magazine, Flash Fiction Online, and Shadows at the Door as well as Flame Tree Publishing's Chilling Horror Short Stories anthology.
As a regular contributor, she writes for multiple travel and entertainment sites including Horror-Movies.ca, Wanderlust and Lipstick, and her own 60 Days of Halloween, a collection of humorous essays chronicling her autumnal misadventures.
She currently resides on an abandoned horse farm with her husband, two cats, and not nearly enough ghosts.
Website | Twitter | Google+ | Pinterest | Facebook | Amazon
---
ABOUT THE ARTIST
Steven Matiko is a talented artist who enjoys horror and dark fiction. Many pieces of his work can be found on the 9th Story Website. Steve is also a musician and his original music is often featured on the 9th Story.
Steve frequently creates art for The Wicked Library and The Lift.
---
NARRATION
Dramatic reading performed by Cynthia Lowman: cynthialowman.com
Twitter: @cynthialowman
The voice of Victoria Bigglesworth-Hayes was performed by Amber Collins: http://ambizzlezappa.deviantart.com/gallery
Twitter: @blamberino
---
PRODUCTION MUSIC
The score for this episode of The Lift was composed and recorded by John Niespodzianski of Orchard Place Place Productions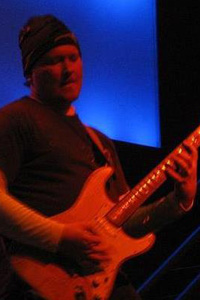 John Niespodzianski is a musician and composer from Pittsburgh, PA. In addition to scoring numerous short films, he was the music supervisor and composer on the feature film "The Other Side". He also has served as lead guitarist for many Pittsburgh bands, including Superstar Jones, Echobox, Totally 80s, and The Soul Kitchen.
If you are a fan of character-based thinking horror, like "The Walking Dead," "The Babadook," and "It Follows", be sure to check out the locally filmed Pittsburgh feature "The Other Side." "The Other Side" is available for rent or purchase on all major video-on-demand platforms such as Vudu, iTunes, and Amazon Instant Video.
Website | Twitter | Facebook | IMDB 
---
Incidental Music:
"Toccata and Fugue in D Minor" (Host Greeting)
Johann Sebastian Bach as played by Kevin MacLeod (incompetech.com)
Licensed under Creative Commons: By Attribution 3.0
"Come Play With Me" (Author Greeting)
Kevin MacLeod (incompetech.com)
Licensed under Creative Commons: By Attribution 3.0
The Lift Opening Theme Music
Composed and Recorded by Kimberly Henninger and Shawn Parke of Cathedral Sounds
cathedralsounds.org

The Lift Closing Theme Music
Composed and Recorded by Nico Vettese of We Talk of Dreams 
www.wetalkofdreams.com
Sound FX: http://freesound.org/
---
AUDIO RECORDING
Sound Design by Daniel Foytik, 9th Story Studios: www.9thstory.com
Producer/ Creator: Daniel Foytik
Producer/ Co-Creator: Cynthia Lowman
Music Director: John Niespodzianski
Art Director: Steven Matiko
Visit The Lift: Facebook | Twitter
---
The Lift and all characters, places, and situations are property of Daniel Foytik, Cynthia Lowman, STRY Radio and may not be used in any form without their permission.
The Lift is member of the STRY Radio Network and The Society 13 Podcast Network